If you've been thinking that volunteering abroad is something that's only meant for the millennials, then let me pop your myth bubble! In fact, you'll be absolutely surprised to know that a huge number of people opting to volunteer with children are above the age of 50. Oh yeah, you heard me right! And not just kids - but it has been observed that retired folks & seniors are more sorted while volunteering, and they can make effective use of their experience at the project site, contributing in the most meaningful manner.
No matter whether you wish to get down and dirty while volunteering with elephants in Thailand, or wish to spend some days in the quaint Himalayan towns, being surrounded by the little ones - your volunteering journey will surely redefine your retired life, giving you a sense of joy & satisfaction. You'll get to meet people of all age groups, travel to places with them, share your stories (and knowledge) with others and eventually, realize that it's never too late to start something good!
Take a look at these volunteer abroad opportunities for seniors and retirees.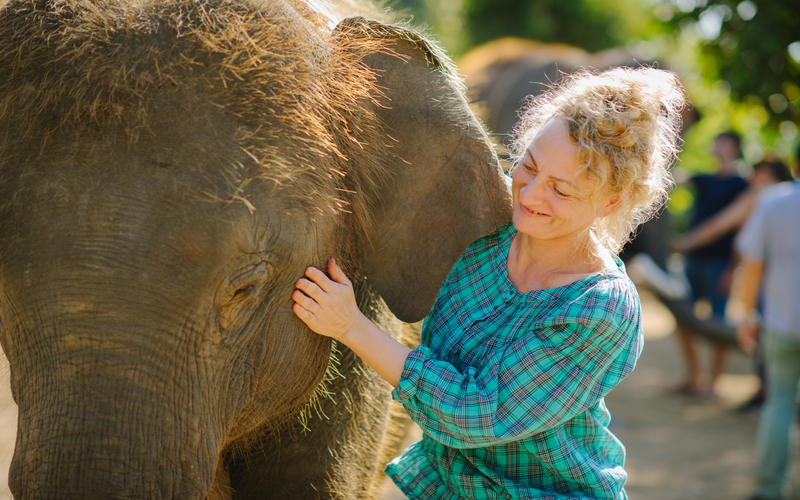 If there is one thing that Thailand is known for apart from its beautiful beaches, it is definitely the Elephants. Elephants are extremely popular in Thailand and are highly revered as well. The love and affection for these giant mammals in Thailand is pretty evident, and that is exactly what the elephant camp volunteering is all about.
For all the wildlife enthusiasts who are looking for volunteer opportunities in wildlife conservation and welfare can join this program in Chiang Mai. The Camp is a beautiful setup, located in the lush green forests and surrounded by tall mountains from all sides. Every little bit helps in the development of the camp. In the late afternoon/early evening, you will be able to spend more time with the elephants and elephant trainers. This is when you will really begin to bond with these lovely giant creatures and learn how to care for them. 
Get to work in a quaint Elephant village in Chiang Mai, Thailand with the giant Elephants
Responsibilities include working with mahouts, taking care of baby elephants, helping in making their vitamins, collecting elephant feed from the forest, taking them for walks and morning and evening baths
Volunteers will also get to make different organic products out of Elephant poop
An ideal break where volunteers get to live in the countryside and away from their everyday life 
Great opportunity for all wildlife enthusiasts to work for the conservation of elephants at the local elephant camp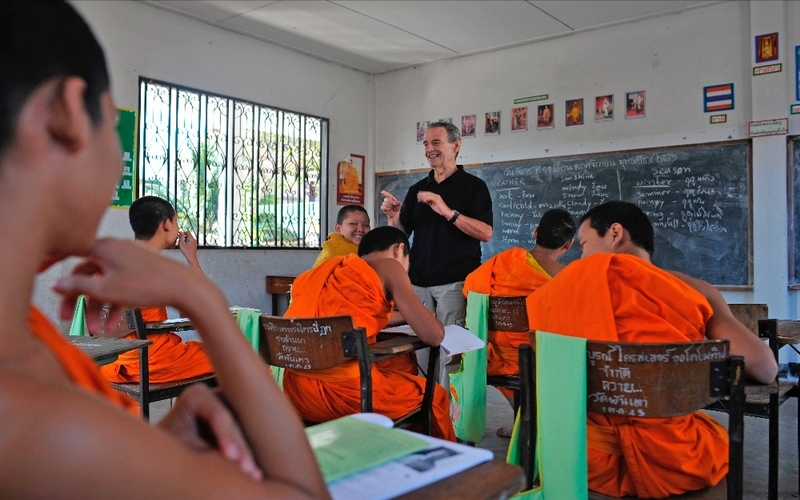 Sri Lanka is one of those countries where Buddhism was spread in its earliest days. It's not just a prominent religion in the nation, but a way of life as well. In the Teaching Monks Program, you'll be working as a volunteer at a Pirivena, an educational institution of Buddhist monks.
In this institution, the monks get a holistic learning opportunity, to study different subjects like Pali (an Indo-Aryan language), history, Sanskrit, astrology, prosody, and logic, apart from the scriptures of Buddhism. The Pirivena is also the place where young monks are trained by their masters to follow the rules and regulations promulgated in the Vinaya Pitaka (a prominent Buddhist scripture). It is also one of the three parts that make up the Tripitaka - a collection of Buddhist teachings that are the foundation of the Theravada Buddhist philosophy.
These young monks are highly enthusiastic and keen to learn English, however, they do not have adequate resources to polish their skills. The Government has appointed local teachers who take a class every day, but even the teachers aren't well versed with the English language. Hence, being a volunteer, you'll get to play an active role in teaching these bright monks.
Teach the Buddhist Monks and polish their English language skills
Get first-hand working experience in an international set-up.
Meet some like-minded travelers from other parts of the world and make bonds of friendships
Learn about the culture, festivities, and traditions of Sri Lanka
Experience the thrill of wildlife adventure at any of the several national reserves, including, Bundala National park, Sinharaja forest reserve, Minneriya National park, and many more
Explore the world-class beaches like Mirissa, Ahangama, and Tangalle and soak in the sun over the weekends
Get the taste of real Sinhalese cuisine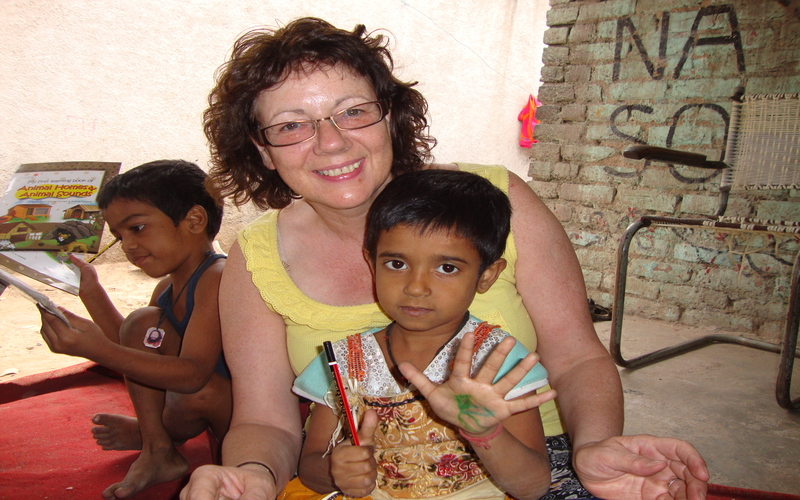 Volunteers who want to be a part of street children volunteering program in India should be empathetic and compassionate enough to understand that these kids are deprived of love and care, and should shower them with what they need most. You can assist in providing love, care, basic literacy, recreation and most importantly spend time and shower affection on them. 
Street Children Program consists of taking informal education classes with the children, playing games with the children and introducing them to activity-based learning. 
The need for improvisation & creativity in teaching methods is paramount and can challenge the most experienced ones as well, but the rewards are amazing.
Emphasize on activity-based learning.
Playing recreational and fun games with the children, while introducing them to new lessons.
Make them aware and imbibe some good habits in children, such as cleanliness, hygiene, and greetings.  
You can plan a trip with the children to a museum or zoo in Delhi. Such educational trips are very useful for the children where they love spending time and playing with the volunteers.
Participants should provide love, care, basic literacy, recreation and most importantly spend time and shower affection on them.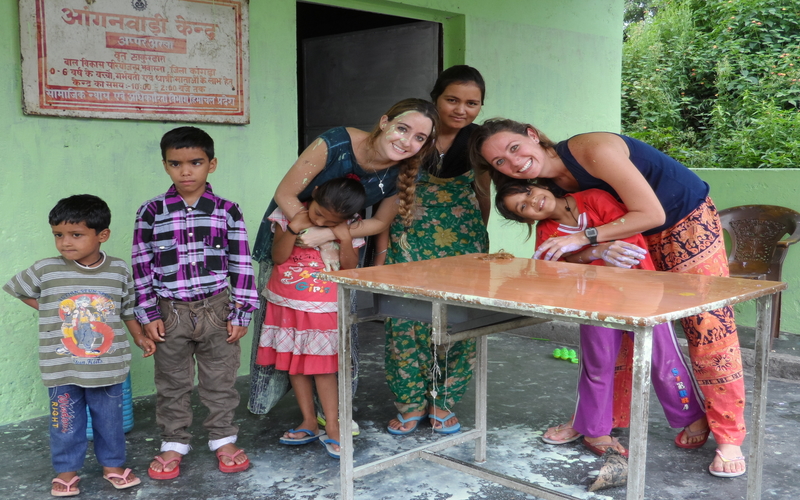 Although English is spoken all across the country quite fluently, the kids in Palampur are still far away from grasping the language. Volunteers joining the Teaching Program will work in primary schools in and around Palampur and teach the basics of English to the kids so that the base of their language is strengthened. This will be really beneficial for their higher education.
Apart from English, the other subjects that are to be taught include Maths, Geography, and General Knowledge. Activity-based learning and interactive sessions are more beneficial while teaching these little ones. This Teaching volunteering project in India will provide invaluable experience of working in a school with kids without any prior teaching experience.
In this program, volunteers can work by themselves or alongside other teachers in the schools. They can also assist teachers and help them find more creative ways of teaching.
Teach the basics of English to the kids, and help them to converse well.
Assist the teachers to develop their spoken English skills.
Teach kids maths, geography and polish their general knowledge.
Help kids as well as the teachers to learn how to use the computer.
Organize interactive sessions to fuel the creativity of the kids.
Create a playful environment by encouraging kids to learn arts and crafts, singing, dancing etc.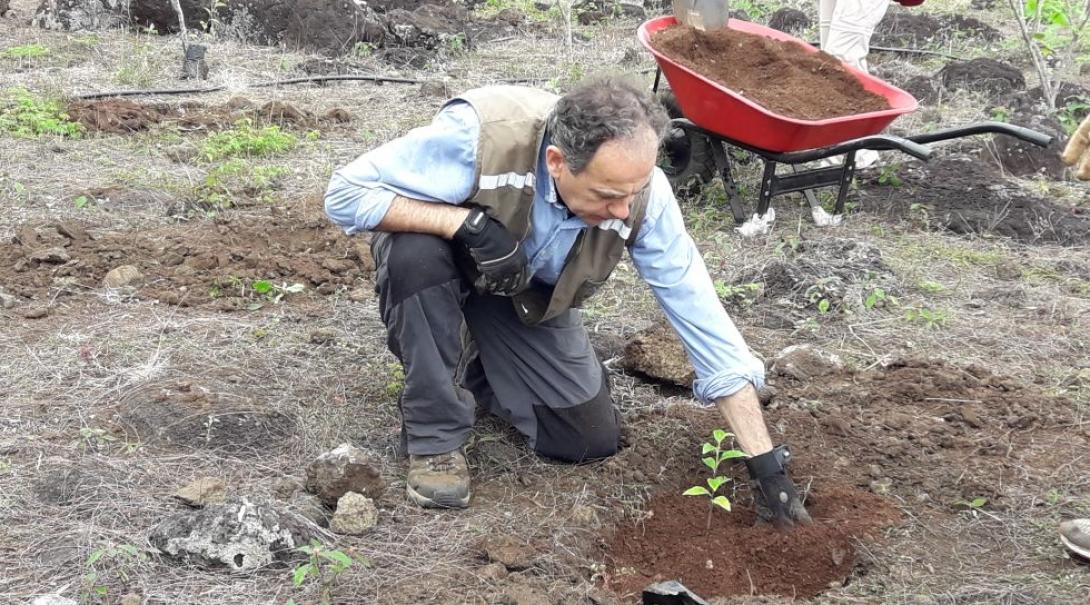 Travel to the Galapagos Islands, for conservation volunteer work and help the local communities. You'll work at the Galapagos National Park and do light renovation work at schools and care centers in the local community. This is a unique opportunity for you, as we are the only volunteer organization with an official partnership that allows you to work in the park.
Your two-week trip is divided into two parts. During the first week, you'll work with conservationists at the park, and help protect endangered animals as well as plants. In the second week, you will be fixing up classrooms and playgrounds of the local community. This might include planting a vegetable garden, painting murals, or patching up playground equipment.
You'll be based on the island of San Cristóbal, and stay with a local host family. Use your time as a volunteer in Ecuador to immerse yourself in nature and support the local community. It's sure to leave you feeling connected and rejuvenated!
Work with conservationists at the Galapagos National Park
Run educational workshops for the local community to raise awareness about conservation
Help with basic renovation work in the local community
Explore the island and expand your horizons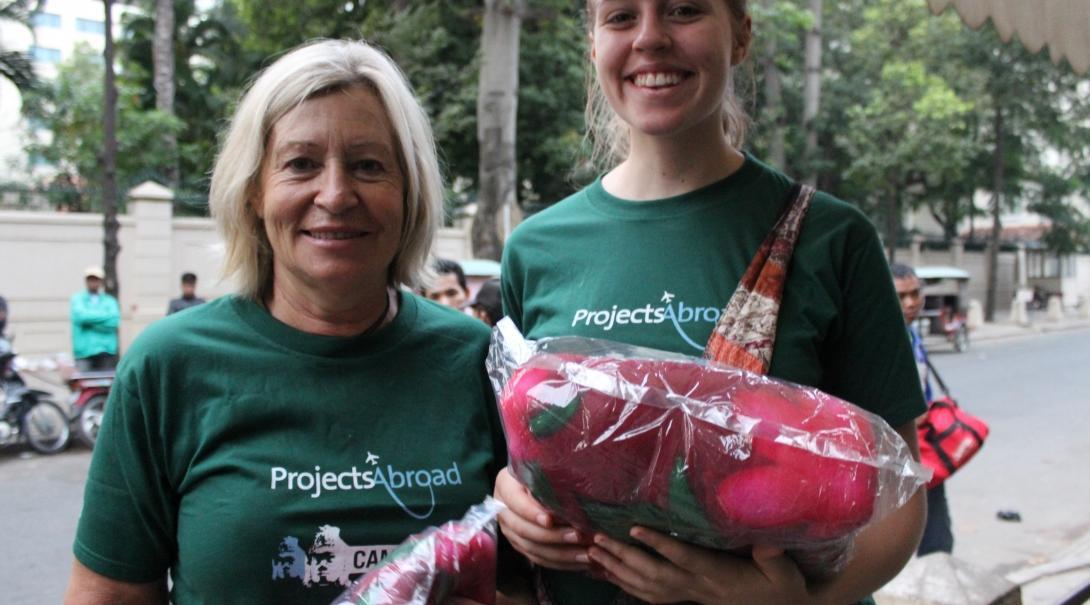 Immerse yourself in the Khmer culture with other volunteers in Cambodia. You'll get to learn about Khmer traditions and Cambodia's history, and also about its people. This is a golden opportunity to get a deeper insight into the Cambodian culture while traveling and exploring it.
Every day will be an adventure. Our staff will take you on a journey, and you'll learn about a way of life different from your own. You'll visit places with historical significance and get hands-on with traditional arts and crafts. You'll take part in cooking classes, learn basic Khmer, and discover the history of the Angkor Wat temples. We also organize activities where you can support local people, like teaching English or working on a farm.
Seize the opportunity to experience Cambodian culture first-hand, while also giving back to the community. Here are a few of the activities that you'll be involved in:
Immerse yourself in the Khmer culture and experience life a true Cambodian
Learn more about Cambodia and its harrowing history of the Khmer Rouge era
Assist locals with English teaching and basic farm work that will benefit the community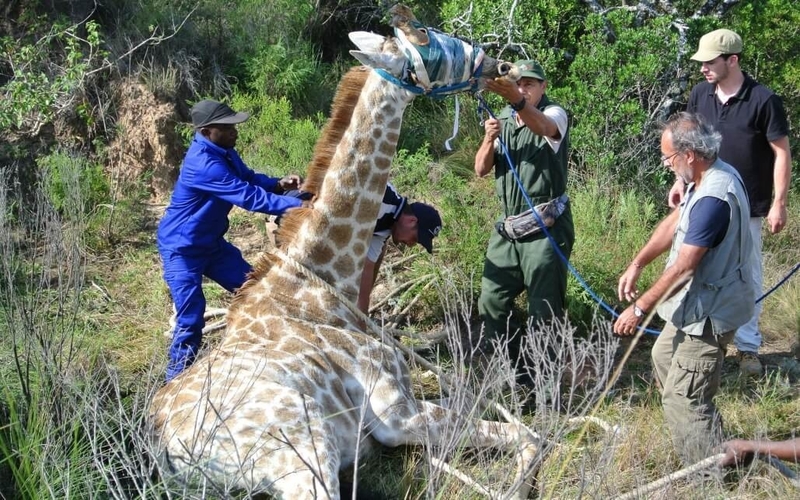 Gain hands-on animal care experience unlike anywhere else. Whether you are going on a game capture or taking a lecture on animal health & nutrition, you will be exposed to the immense variety of animals as well as the knowledge that is available in the African environment. This internship is designed for volunteers to receive maximum exposure working with African wildlife, agricultural livestock, and domesticated animals; however, the amount of time devoted to each is dependent on demand. You will be performing daily tasks together with the general staff, and most often in the presence of a qualified veterinary nurse. 
Make a genuine contribution to the African animals whilst improving your own veterinary knowledge
Work hands-on with animals in a way, unlike anything you can do at home!
Explore this stunning area of the country, meeting the locals and get to know a completely different way of life
Learn from the knowledgeable team of locals and spend time with a vet for specialist work
Have the opportunity to camp under the stars during reserve trips, completely immersed in the African wildlife experience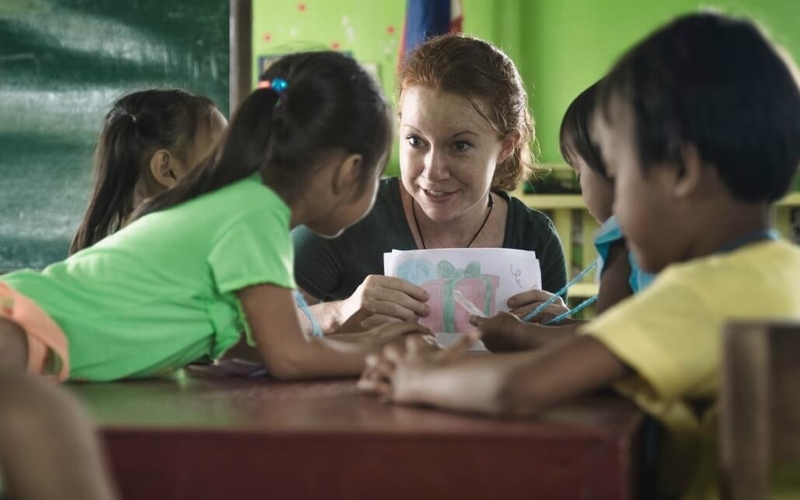 Volunteer on an island teaching English and taking care of the children! Help kindergartners broaden their horizons and build the foundation for future opportunities in what is considered the Philippines' last frontier. As a volunteer on this project, you will directly take part in the day-to-day operations of the kindergarten. Your primary task will be to communicate in English with the children and to teach them in a fun and practical way. Other than this you'll also be helping the local staff in organizing and managing activities and playing games with the kids.
Live and volunteer on the beautiful island of Palawan
Take care for kindergarteners and teach them English
Teach English in a different way by organizing fun and educational games
Explore the surrounding fishing villages and smaller islands during the weekends

Choose your favorite volunteer program and preferred location, before you head out to volunteer and get involved in something meaningful. It's time to help the local communities and make a difference abroad! We hope that together, we'll be able to bring a change!
For more inspiration, you can follow us on Instagram and Facebook.