Many of us may have grown up wanting to "Heal the world, make it a better place" to live. However, a lot of us have no idea how to do this. 
Volunteering as a teacher is a great way to gain teaching experience as well as getting to know a country's culture. You'll get to work with children, and while you teach them, you'll learn for yourself too. Volunteer teaching is a great way to do something meaningful if you love children and want to spend your time abroad, making a difference in their lives.
There is no doubt that education is the key to development. In many developing countries, the biggest problem is a lack of qualified teachers. Volunteer projects help in closing this gap by making it possible for volunteers to step in and support schools in their daily routine. Volunteers can teach the basic subjects especially English so that the children have a bright future. 
There is a misconception that volunteer teaching is just limited to primary schools, although many projects work with them. Kindergarten, primary schools,  secondary schools, and even universities use volunteer teachers to enhance the quality of education. Volunteer teachers also needed, where you can support children with their homework, keep them busy and play with them in a safe environment. Volunteers are used as part of a support network and do not replace local teachers -- after all, they are needed in the long term. 
When done properly, volunteer teaching abroad is one of the most concrete ways you can give back to society. Not only can you share your native language skills and knowledge but you also get the chance to get to know locals and their culture properly or meet other travelers along the way.
We have compiled a list of the best countries for volunteer teaching around the world for you. In the following countries, your contribution as a volunteer teacher will definitely have a huge impact on schools especially the students.

Thailand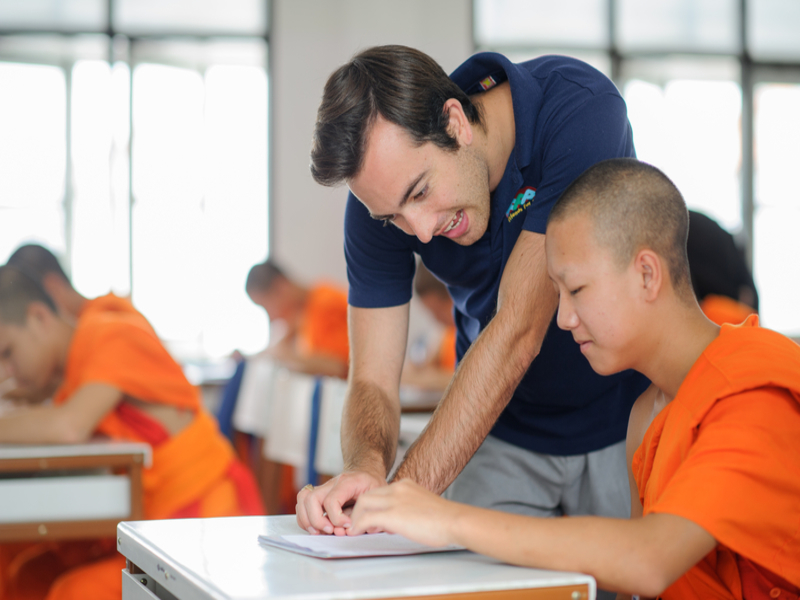 Legendary eye-watering peppers and fragrant scents of steaming street food just scratch the surface of this warm, smiling Kingdom. Popular with budgeting backpackers and foodies, Thailand has been creeping onto everyone's bucket list recently for voluntourism projects and adventure tours. Volunteering in this tropical paradise will expose you to some crazy inspiring opportunities, whether it's teaching English to young monks, spreading the lights of environmental conservation, or a range of other causes.
Some inspiring Volunteer Programs Abroad:
Teaching Monks Program by Volunteering Solutions
Volunteer work at monasteries and temple schools to teach young monks elementary subjects. The objective is to enhance the knowledge of novices and monks in both religious as well as secular subjects.
English Education Volunteer by Volunteer Thailand
Your role in the class depends on the school as well as your own comfort level. You'll be paired with a Thai teacher and have the option of going into class and simply helping out with the daily lessons.
Teaching Project by IFRE Volunteers
In this project, volunteers will teach English to the students of the primary and secondary schools for five days a week. Volunteers are needed to create creative and effective educational environments for children to learn English and therefore, expand their future opportunities.

Kenya
Kenya is a beautiful country in East Africa that is mostly known for its wilderness, biodiversity and natural beauty. In 2016, 41% of Kenya's population was under 15 years old, one of the highest youth percentages in the entire world. To be able to educate all young people, many new schools have been built in the last years, but there is a chronic lack of teachers. That's why it is a great country for volunteer teaching. You can support the education sector and work with the young people of the country to combat illiteracy by being a volunteer teacher in Kenya. You can work in the underprivileged schools around Nairobi as well as get a chance to teach in Maasai tribal schools. No matter where you go, you'll surely do something worthy.
Some inspiring Volunteer Programs Abroad:
Childcare and Education Volunteering with African Impact
Live the tropical island while teaching English, caring for children and sharing your skills in an incredible country. Immerse yourself in the warm community of Jambiani and make long-term contributions through teaching, promoting gender equality, developing the community center and assisting with local conservation initiatives.
Teaching Program with Abroad View
Volunteers can support the local teachers with English and math classes; encourage students to learn and play and instill pride in their schooling. Volunteers can also assist with the physical upkeep of the school; painting, decorating, mending desks, etc.

India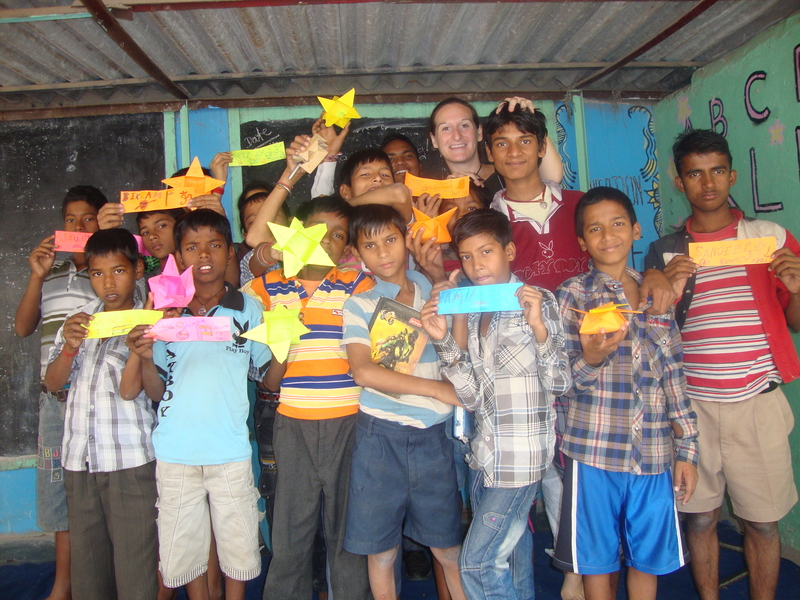 With the seventh wonder of the world, Taj Mahal, and the holy city of Varanasi, India has a booming tourism industry. However, this South Asian country still grapples with more than a third of the world's poor and underprivileged people and craves for English volunteer teachers. By teaching in India, you can learn more about its education system at the grassroots level. You can explore a culture that is so ancient yet  equally modern at the same time, or learn a new language (Hindi, Punjabi, Bengali, Gujarati, Tamil - the list goes on!) Being a volunteer, you'll also get a chance to immerse yourself in the Indian culture and gain first-hand work experience that'll immensely benefit your career. The gap between the poor and rich is very apparent in India, and the level of poverty can be extremely disturbing - so you might just make a difference and spread some happiness.
Some inspiring Volunteer Programs Abroad:
Volunteer Teaching Program with Volunteering India
Volunteers joining the Teaching Program will get to work in primary schools in & around Palampur and teach kids, the basics of English so that the base of their language is strengthened. This will be beneficial for their higher education.
Teaching Volunteer Program by Volunteering with India
Teach kids basic English and Mathematics in rural areas, help teachers improve their way of teaching and guide them with new and innovative ways to help children learn faster, improve the basic pronunciation, communication skills and also spread awareness about basic hygiene among children and their families.
Teaching and Community Work with GoEco
This project is designed to support, educate and care for the community members who need it most, from young children to abused women to elderly people without families. Volunteers will be sent to various locations where they can provide assistance to the disadvantaged individuals and help them gain a sense of security and stability.

Sri Lanka
Only around 10% of the population can speak fluently in English in Sri Lanka. The language is widely used in the government sector and business communications, as well as in the growing tourism industry. That is why it is an important skill that can help improve students' future job prospects and many other opportunities. However, educational institutions lack efficient teachers who can guide young minds. Volunteers can assist the local teachers in rural education centers as well as urban schools and can lead their own classes at a primary or secondary school. They can also teach young monks at a temple school and help them in learning the language.
Some inspiring Volunteer Programs Abroad:
Teaching Volunteer Program with Volunteering Journeys
The aim of the teaching program is to lay a good basic foundation for students English skills. You can attend the school and assist the teacher however we also will conduct after-school sessions where there will be no teacher and you are expected to prepare lesson plans. 
English Teacher Volunteer Program by Plan My Gap Year
This volunteer program encourages students to develop a skill that will help them to achieve their future goals. Conversing with fluent, native English speakers can improve their language skills, essential for future employment.

Costa Rica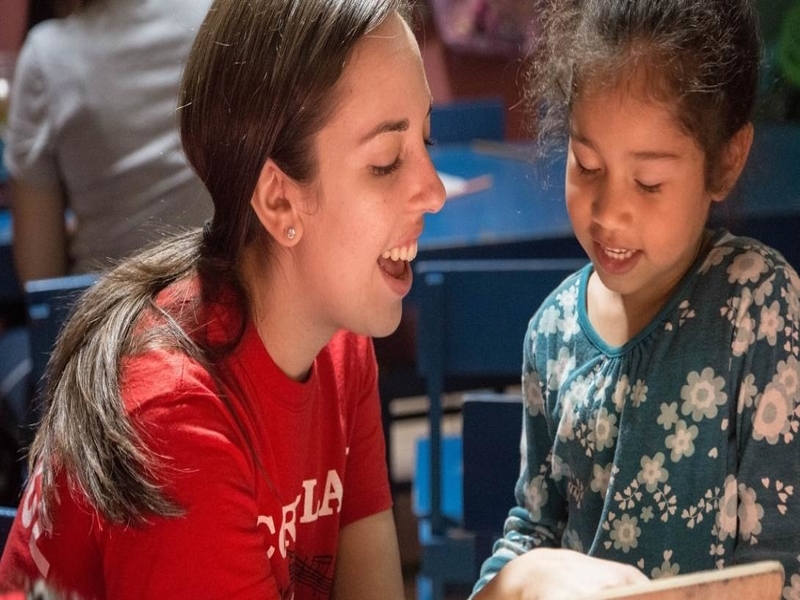 National Geographic has called Costa Rica, "the most biologically intense place on Earth." With lush rainforests, misty volcanic peaks, and golden coasts (on both sides!), Costa Rica delivers magic at every step of the way. And with the vibrant capital of San Jose, the country never fails to mesmerize the travelers. Naturally, Costa Rica has become a top choice for international volunteers - whether you want to volunteer for sea turtles or teach English, you'll find a suitable program. Being a teacher will also make it easier for you to immerse yourself in the local culture of the 'Ticos' and enjoy the happy vibes of the country!
Some inspiring Volunteer Programs Abroad:
Teaching English Project by New Hope Volunteers
As a volunteer teaching English in Costa Rica, you will be teaching 5 days a week. Depending on the individual interests and skills, and on the needs of the local staff.
Volunteer Teaching English by Projects Abroad
Help primary school children improve their language skills. You can lend a hand to local teachers during their classes and support students who are struggling to keep up. This is a great introduction to the classroom environment.
Volunteer Teaching English by Global Crossroad
It offers many ways to explore day-to-day Costa Rican life while helping young students improve their Basic English or conversational skills. Work includes teaching English to students from pre-school to high school. You will work with and assist the full-time teacher and also tutor the children and help them with their homework.

Nepal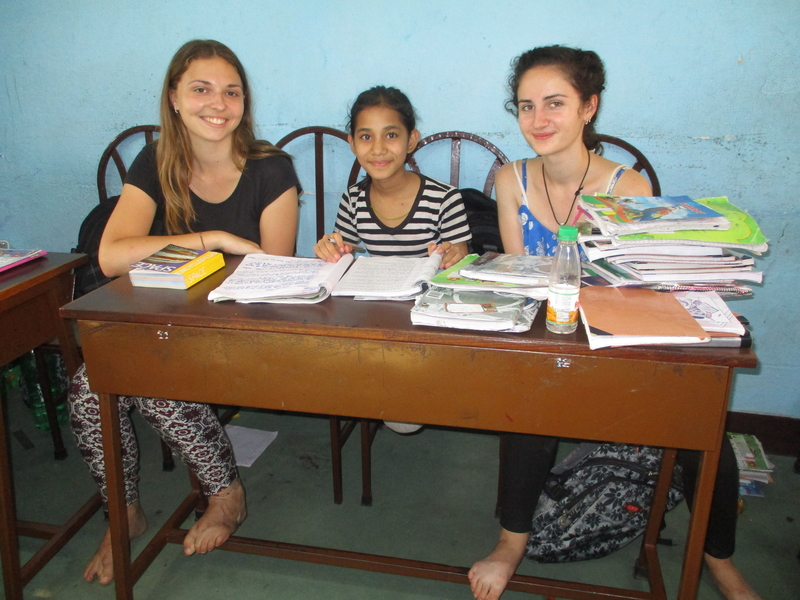 Nepal is still recovering from the most recent earthquake which happened in 2015, and so many areas are still being rebuilt. Many Nepali classrooms are underfunded and lack enough resources, thus volunteer teaching can be a challenging yet enlightening experience. Older Nepali students can be a bit reserved in the classroom, but you can use your creative skills to make them comfortable and help them to open up to learning. Teach monks or school children and explore this fascinating Eastern culture in the heart of the Himalayas. Because most of the population lives below the poverty line, Nepalis appreciate strangers who look forward to helping their people. And of course, when you're there, you'll get to explore the Himalayan trails and soak in the beauty of the majestic mountains.
Some inspiring Volunteer Programs Abroad:
Volunteer Teaching Program by Volunteering Solutions
Conduct English classes at local Nepalese schools, which are short of staff and are in need of regular volunteers. Strong command over the English language can land a sophisticated and decent pay job. It is of a great benefit to working as a volunteer teaching in schools in Nepal, not just for the children from the underprivileged section but the volunteers as well. 
Teaching Program by Volunteers Initiative Nepal
Just come with a smile, your desire to teach and learn, and you'll feel right at home. Volunteering as an English teacher to children in a Buddhist monastery is a deeply rewarding and unforgettable opportunity to give back.
Teaching Young Buddhist Monks Project by New Hope Volunteers
Volunteer in Nepal and teach eager, enthusiastic young monks the English language in a monastery. Teaching is rewarding, but teaching young monks, is even more gratifying. Not only will you be helping the monks, but you'll also be able to learn about the Buddhist culture and rituals in Nepal.

Tanzania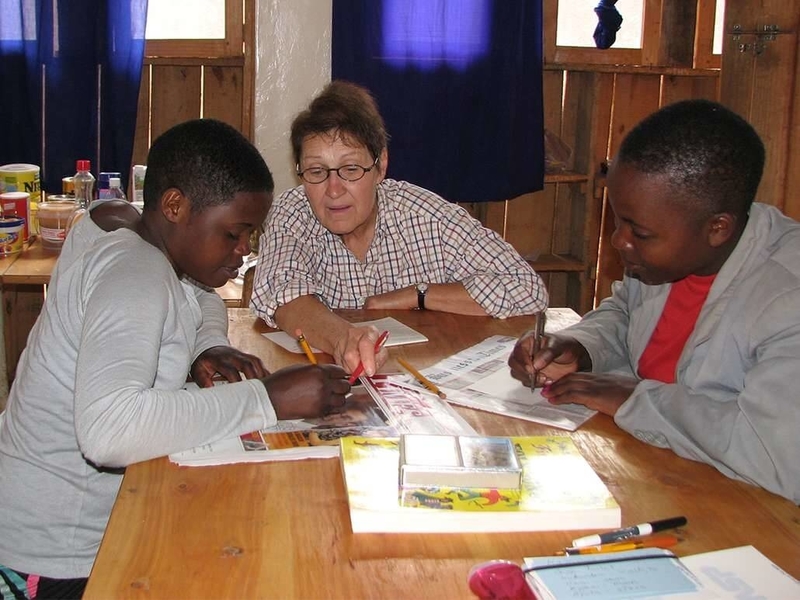 If you're interested in teaching or want to broaden your educating experiences, there's no better place than Tanzania! Tanzania was once a British colony, due to which English is a common language now. However, the quality of education in the country is unfortunately not up to the mark. With the growth of globalization, tourism, and an increase in trade and commercial activities worldwide, English has become a really important subject for the young children of Tanzania to learn. Being a teacher, you can guide the young minds, help them in strengthening their communication skills and boost their confidence to dream of a better future.
Some inspiring Volunteer Programs Abroad:
Volunteer As A Teacher with Agape Volunteers
Working in a school in Tanzania, you may be asked to take lessons in English, maths or science, but don't worry if you feel your strengths lie outside these areas - the children you teach will benefit from your enthusiasm and your ability to construct sentences in English.
Classroom Teaching Program by Global Volunteers
Working in a school in Tanzania, you may be asked to take lessons in English, maths or science, but don't worry if you feel your strengths lie outside these areas - the children you teach will benefit from your enthusiasm and your ability to construct sentences in English.

It's a golden opportunity for you to make a difference in the lives of the students across the globe. Choose the one that suits you the best and set out for exploring the destination that you've been wanting to explore since forever!
Hope you have a great time volunteering as a teacher!